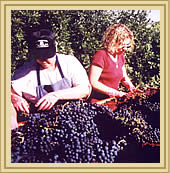 The grapes are destemmed by hand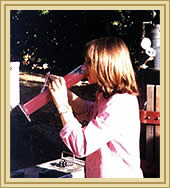 Anna Favier tastes the crop
The vines are cared for by a team that also works with the best wines in Pomerol and Saint Emilion, where it looks after the vines of the four leading classified Grands Crus (Angélus, Clos Fourtet, Figeac and Pavie), as well as those of Monbousquet, Cormeil-Figeac, Beauséjour-Duffau-Lagarosse, Laudes, Vieux Lartigues and Cravignac.

Once the vine leaves have been stripped and some of the unripe bunches culled in preparation, the grapes are hand-picked, placed into crates and destemmed entirely with the utmost care.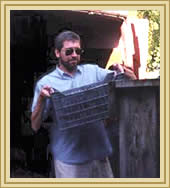 Jacques Favier
"grapes in crates"
Geoffrey Serrano has been appointed to manage the cellar. He also produces a number of prestigious wines,
The wine is made using the traditional method fermenting for more than 30 days in stainless steel vats and malolactic fermenting in new French oak casks. Then , no more than one third of the wine produced is being aged for 15 months in new French oak casks, the remainder being aged in barrels that have been used for one or two previous harvestsPages.